Sod Turning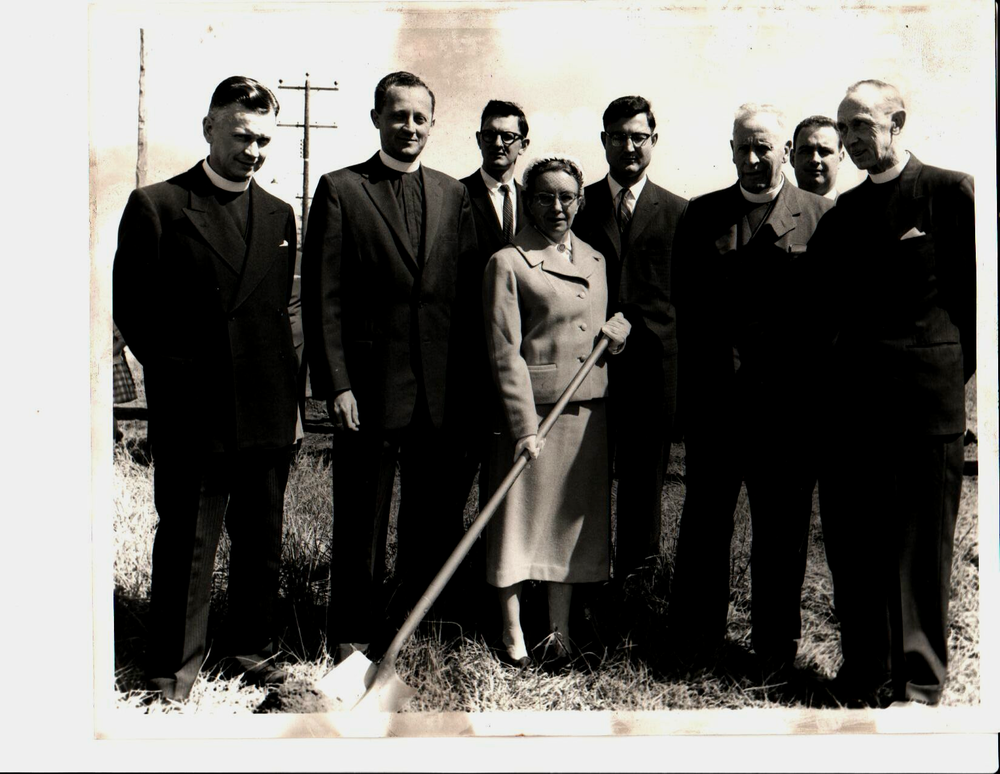 CUTTING THE first sod at the site of the new Westminster Church on Victoria Rd. North. From LEFT are: Rev. R. F. Thompson, St. Andrew's Church; Rev. J. Douglas Gordon, minister of Westminster congregation; Harry Battaglia, representing the contractor; Miss Marjorie Mackay, deaconess of Knox Presbyterian Church who cut the first sod; Dick Pagani, the architect; Rev. Fred Williamson, St. Paul's Church; Bob Millar chairman of the building committee, and Rev. David McCullough, president of the synod of Toronto and Kingston.
Cutting the First Sod
The sod turning for the building was an important moment for the new congregation. Knox Church deaconess Miss Marjorie McKay who had started a Sunday School for east-end children in 1956, cut the first sod. Rev. J. Douglas Gordon, the first minister of the new church is also seen in the photo. Local architect Richard (Dick) Pagani is also pictured. Pagani, a Guelph native, studied architecture at the Massachusetts Institute of Technology. He was known as a modernist and for his artistic creativity and innovation according to the Ontario Heritage Trust.

Although no one can remember with certainty, lore has it that Pagani designed the roof line to resemble praying hands.

The original design featured a skylight the length of the building. This was eventually modified due to leakage.