There are two versions of this book. As we find differences between this and the other version, we will put them in an addendum at the bottom of this web page.
Dara Thompson, whose report is found below, was a member and an elder at WSP before going on to divinity studies.
The page below did not reproduce well. The text is hard to read and is therefore included as an addendum at the bottom of this web page.
The version of the Second Twenty-Five presented above did not have an index. The other version did. We have edited that index, to match what is shown above, and included it below.
page
Topic
1
Dedication — Charter members
2
Past Ministers
3
Remembering Miss McKay
4-6
Ken Wilson
7
Cheese sale
8-15
Herb & Shirley Gale
16-17
Intern student reports
19
Capital Campaign Update
18, 20-21
Dara Thompson
22-23
Other ministerial events
24-25
Karla Wübbenhosrt 2007 Report
26-28
Session 1983-2008
29
Rev. Wilson 1984 message
30-35
Elders
36
Bible Study Groups annual report
37-44
Elders
45
Library
46-48
Miscellaneous Reports
49-51
Cancer Survivors' Day
52-53
Clean Slate in 98 campaign
54
Special Days report
55
Cradle Roll report, History Project report
56
Women's Breakfast Bible Study
57
Men's Breakfast Bible Study
58
Prayer Chain
59
Memorial Sign, Crieff
60-73
Board of Managers
74-77
Bob Stinson
78-82
Challenge/Margaret Beale
83
Nursery, John Powell, Genealogy
.
Centre spread - photos
84
Alpha Course
85
F.I.S.H
86
Adult Sunday School, Flames Youth Group
87
Children's Choir report, Men's Breakfast Bible Study
88-90
CGIT
91
Explorers, Cubs, and Scouts
92
Youth Group, CGIT annual report
93
Cradle Roll, Zehr's Tapes, Church History Project
94
National Presbyterian Museum
95-96
Travels with the Kaethlers
97-105
Choir and organists
108-111
New Book of Praise (1997)
112
Women's Missionary Society
113-116
PWA
117
Goodwill Circle
118-120
McGillivary Circle
121
Women's Interchurch Council Report
123-126
Victoria Circle
127
WMS 75th Anniversary
128-129
Westminster Belles
130-135
40th Anniversary
136
Fellowship Committee Annual Report
137
The Friendship Book
138-139
New addition to church building
140-142
Vacation Bible School
143-149
Sunday School & Cradle Roll Report & Nursery
150-164
50th Anniversary & committee
.
- cookbook
.
- baby contest
165
Diligent Workers
....................
Addenda
The materials here supplement or clarify the version of The Second Twenty-Five which is reproduced above.
---
Ministers' Photos (p. 2)
The page below is taken from the other version of the Second Twenty-Five.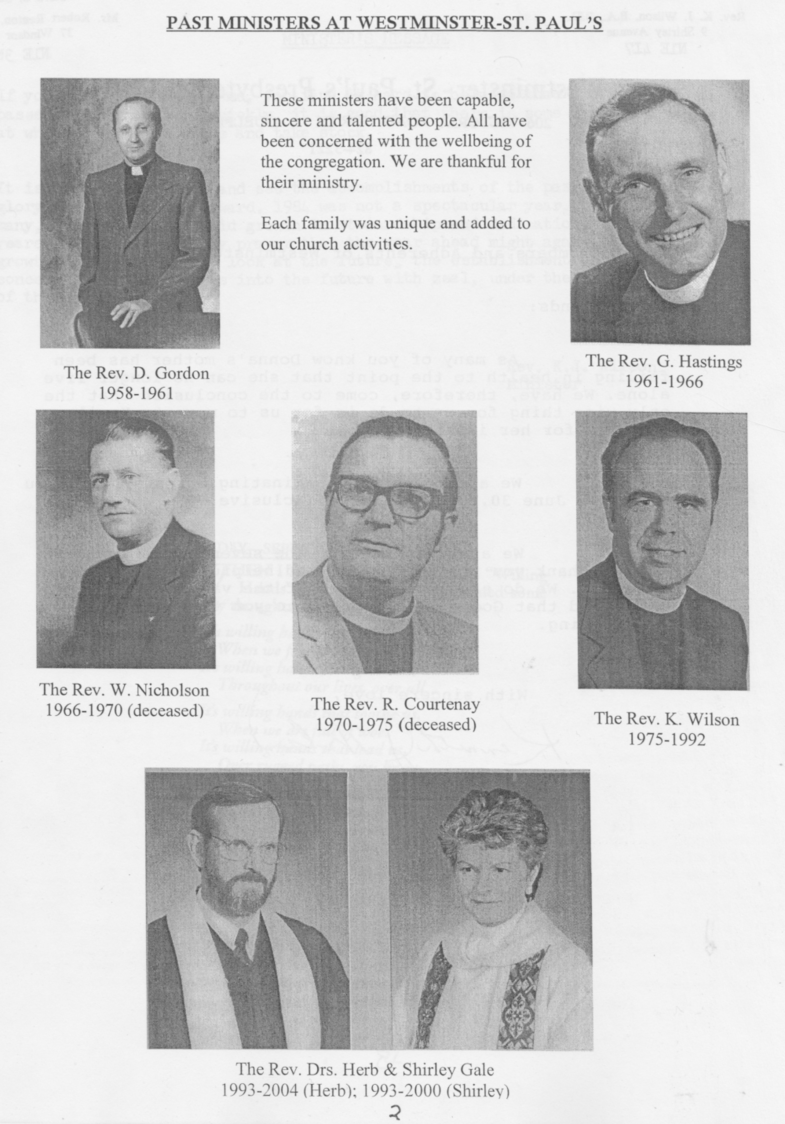 ---
National Presbyterian Museum (p. 94)
An illustration, with text overlaid, reproduced poorly. As a result, the text is hard to read. Therefore, we include the text here.
The National Presbyterian Museum is now in a position to receive your congregational and individual acquisitions and holdings. Perhaps a trowel which was used to lay the cornerstone of a now defunct church is available. Old pictures or communion tokens could be donated.

Sample books are needed to complete both a minister's library or a congregational library from the 1890's, for display in the museum.

For further information, please contact the Chairman of the Committee on History, Dr. Jobn A. Johnston, 183 Chedoke Ave., Hamilton, ON L8P 4P2 ( 905-528-4988 ) or the church archivist emeritus, Dr. T. Mel Bailey, 81 Cloverhill Road, Hamilton, ON L9C 3L8 ( 905-383-4988 ).

Materials for the museum can be sent to either of the above addresses. Financial contributions should be forwarded to the Treasurer, Presbyterian Church Offices, 50 Wynford Drive, North York, ON M3C 1J7
1997
BIRTH OF THE
National
Presbyterian
Museum

AFTER 225 YEARS, THE PRESBYTERIAN CHURCH IN CANADA HAS ESTABLISHED A DEPOSITORY FOR THE COLLECTING, CATALOGUING AND DISPLAYING OF ITS UNIQUE HISTORY.
---